Delegates of LUSM Attended AACSB Virtual ICAM 2020
Author:Wu Rui
Translator:Wu Rui
Source:International Accreditation Office
Reviewer:Zhao Yanhai
View:
Updated:2020.05.02
Font Size:T T T
The first AACSB virtual International Conference and Annual Meeting (ICAM) was held online from April 26-29, 2020. Delegates of School of Management, Lanzhou University (LUSM) were invited to attend.
ICAM 2020 brought together more than 650 representatives from over 350 organizations to work on the challenges and opportunities facing business schools today. It mainly focused on hot issues of Accreditation Standards, Membership and Quality Assurance, Faculty Qualifications and Development, Digital Transformation and Diverse and Inclusive of Business School. In addition, key areas of future work on Proposed 2020 Business Standards, Leading after COVID-19 and Strategies for Planning and Executing CIR visit were deeply analyzed. During the three-day meeting, John Eliott, Board Chair, Thomas R. Robinson, President and CEO, Stephanie Bryant, EVP and Chief Accreditation Officer and other officers and leadership of AACSB international were participated in discussion on numerous topics.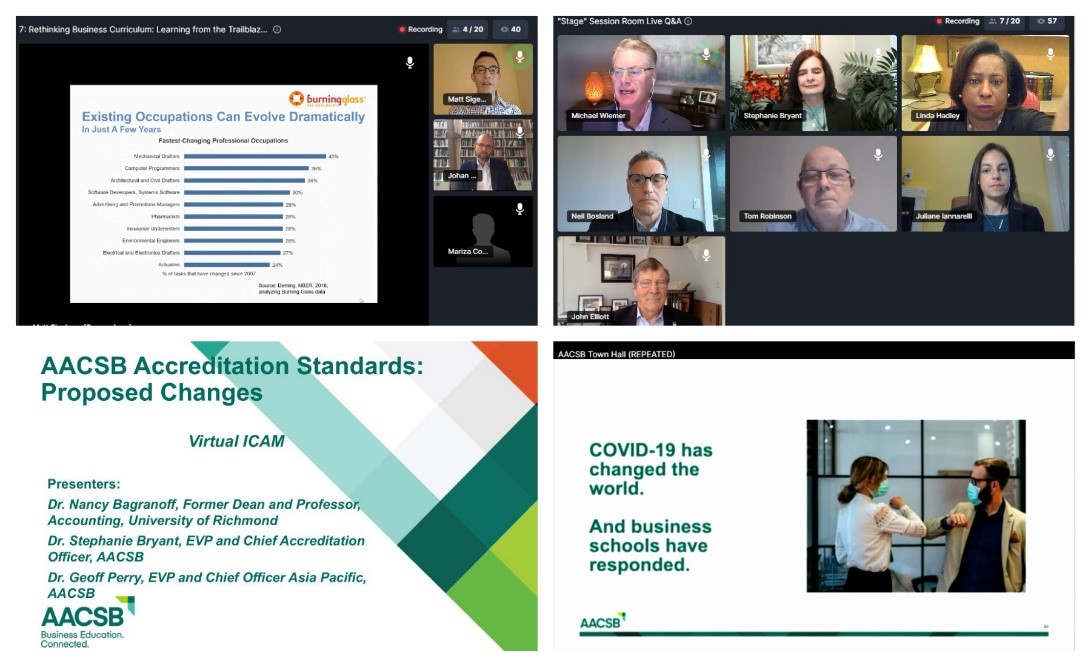 During the three-day meeting, delegates of LUSM listened to keynote speeches entitled Strategy in the Changing landscape of Business Education and Leading Digitally: Foster Human Engagement at Work and participated in discussion on Proposed Changes of AACSB Accreditation Standards. Meanwhile, the delegates were actively engaged in Q&A sessions on Assurance of Learning, Business Curriculum, AACSB DataDirect and Initial Accreditation Visit. Particularly, more than 50 business schools and organizations demonstrates their innovative practices on education environment building through virtual booths in the Experience Hall of the meeting.
Through online sharing of the latest trends in international business education, the advanced thoughts and models of education environment building, the best practice of COVID-19 prevention and control, and the vision of the proposed new 2020 business accreditation standards, the meeting provided new ideas and perspectives for the development of business education, and played a positive role in guiding and promoting the next step of AACSB accreditation.