Vital Phased Progress in AACSB Accreditation
Author:Wu Rui
Translator:Yang Miaoqing
Source:International Accreditation Office
Reviewer:Liu Yajun, Zhao Yanhai
View:
Updated:2021.12.22
Font Size:T T T
On December 20th, the Initial Accreditation Committee (IAC) of the Association to Advance Collegiate Schools of Business (AACSB) informed School of Management, Lanzhou University (hereafter LUSM), through a decision mail, that its 2nd progress report submitted in September has been accepted, marking the beginning of LUSM's preparation for a peer review team visit.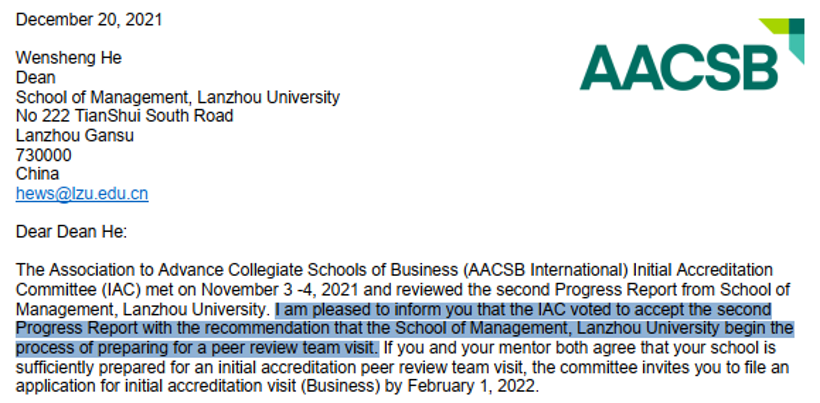 Screenshot of IAC Decision Letter
Since becoming AACSB member school, LUSM has made continuous efforts in related accreditation work after the approval of its Eligibility Application gained in 2017. Following the principles of "promoting development through accreditation and conducting continuous improvement", and "locating in western China and embracing the whole world", and based on its own features, LUSM has always taken the advanced business education at home and abroad as the model, and mobilized all faculty members, students, alumni and stakeholders to carry out related work in accordance with the accreditation requirements. Therefore, remarkable achievements have been reached over the past five years in all aspects of the school work, such as top-level governance, talent training, discipline construction, faculty development, social services and interactions with stakeholders.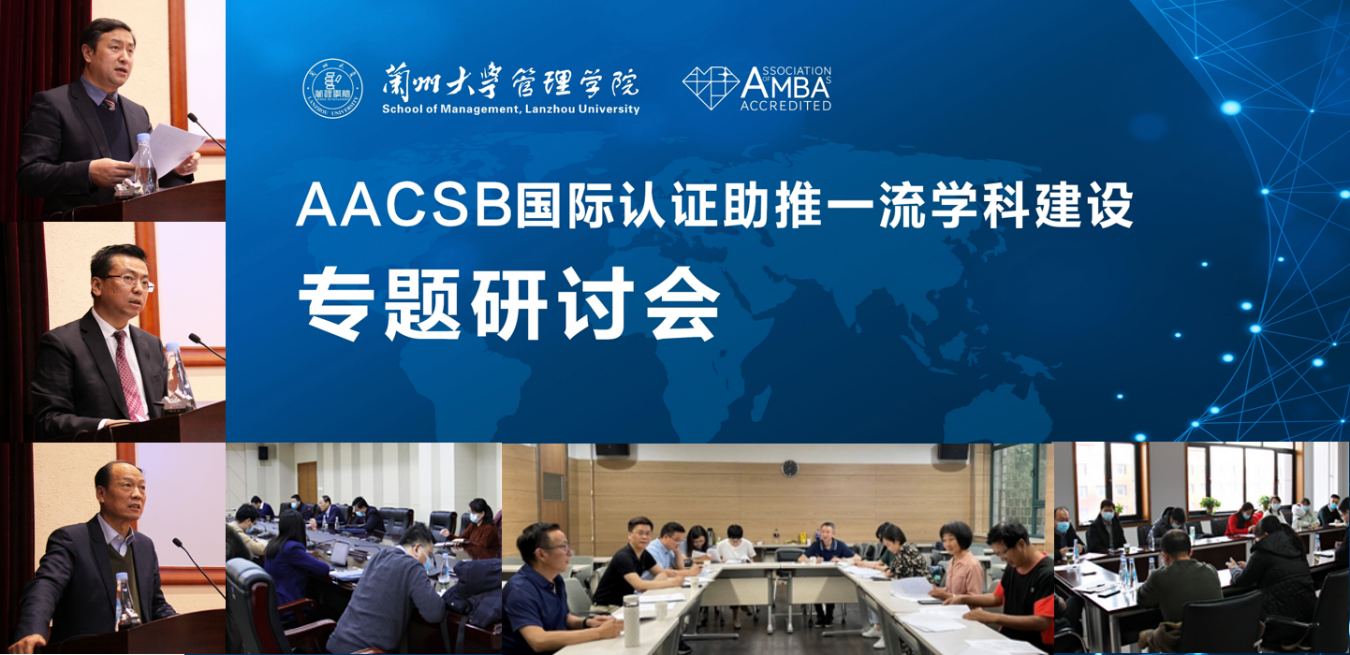 Faculty attending AACSB Seminars
On one hand, a complete governance system has been formed, including the international advisory committee, academic committee, accreditation committee and accreditation working groups, with standard operation procedures and protocols formulated respectively. This sound and effective organization structure and working mechanism is considered as a crucial step to promote the accreditation work at the whole school range and with the full support from all school members. On the other hand, diligent efforts have been made in the improvement of AOL construction, leading to the establishment of an effective system to assure and assess learning, on the basis of the principles of "result orientation, process management, and closed-loop feedback". As a result, the learning goals of knowledge, competence and quality have been refined and integrated into each degree program and each course. In order to further improve the education quality, LUSM has organized more than 20 workshops with themes ranging from course syllabus to exam design, made 15 templates for collecting basic teaching materials and related data, and conducted 2 satisfaction surveys with nearly 700 graduates and alumni involved in.
Several Internal Materials and Teaching Templates
In alignment with the accreditation standards, LUSM has clarified and specified the recognition criteria of research outcomes and enriched the types of intellectual contributions with emphasis on academic research, talent cultivation, professional engagement and social service, on the basis of research center and research institutes. What's more, LUSM has refined the system of faculty categorized management, assessment and development, expanded the international and domestic channels of faculty recruitment, and established high-level cooperative teaching and research teams. To improve the school identity among relevant departments of Lanzhou University, partners, alumni, faculty and students, LUSM has enriched various publicity channels, for example, site visits and investigations by the School leaders and accreditation team, diversified publicity materials, 6 seminars for stakeholders, and 10 relevant trainings.

Examples of Accreditation Publicity Materials
In each accreditation stages, strictly following the accreditation process, the School accreditation team and the International Accreditation Office prepared and submitted the required report on schedule, demonstrating the School basic information, featured practice and changing situation with supporting data and supplementary appendices. In accordance with the feedback of IAC, a gap analysis and related improvement measures were provided as well. The submitted Eligibility Application (EA), initial Self Evaluation Report (iSER), 1st progress report and 2nd progress report were officially approved in 2017, 2019, 2020 and 2021 respectively and were highly appraised by the accreditation institution.
In the official decision letter, Nitham Hindi, chair of IAC, fully recognized the School's continuous improvement system and achievements in AOL system, quality publications, research funding and faculty recruitment and congratulated on the School's efforts to reaching this accreditation milestone.
Professor Sarah Dixon, accreditation mentor of the LUSM, said in the email that the School has done"a fantastic job"and she strongly supports the School moving to the initial accreditation visit process.
AACSB accreditation, as a key part of the School's "14th Five-Year Plan", is vital to promote overall development of the School, enhance the brand impact and provide platforms for international cooperation and exchange. This phased progress, as a good result of the attention and support of the School leaders and all departments, cooperation and efforts of all teachers, students and staff, demonstrates the international recognition of the School's education quality, development prospect and strategic plan.
In the next stage, in accordance with the IAC's feedback, LUSM will continue its diligent preparation work for the initial accreditation visit, including the preparation of Self Evaluation Report (SER), Peer Review Team (PRT) visit plan, and related supporting data and materials. LUSM is with great confidence to welcome the PRT on-site visit and a favorable result, and expect a further progress of the School with high education quality and social impact. Meanwhile, taking accreditation as a precious opportunity, LUSM will continue to accelerate its internationalization strategy, contribute to the "Double First-Class" construction and constantly fulfill its mission of "to develop leaders with global perspective, local commitment and social responsibility for western China and beyond".
【Background Information】
The international business accreditation aims to promote the business school to achieve all-round development with quality assurance system and continuous improvement mechanism driven by its mission and strategy through standards alignment, capacity building, mentor guidance, and peer review team visit, which is closely related to the "Double First-Class" construction initiated by the Ministry of Education. Established in 1916, AACSB accredits all degree programs in business schools with a general accreditation process of 5 to 7 years. Up to now, only about 5% of business schools in the world have passed AACSB accreditation.