LUSM Student Achieved Highest Mark Worldwide for ACCA Paper TX
Author:Wang Lei
Translator:Ma Peipei
Source:Undergraduate Education Office
Reviewer:Wang Xuejun
View:
Updated:2020.08.06
Font Size:T T T
Recently, ACCA (the Association of Chartered Certified Accountants) sent congratulations to LUSM ACCA student Zhang Xinyue for her performance in the ACCA June 2020 examinations. Ms. Zhang has achieved the highest mark worldwide for paper Taxation (TX) with a score of 98, which is the first in LUSM ACCA history.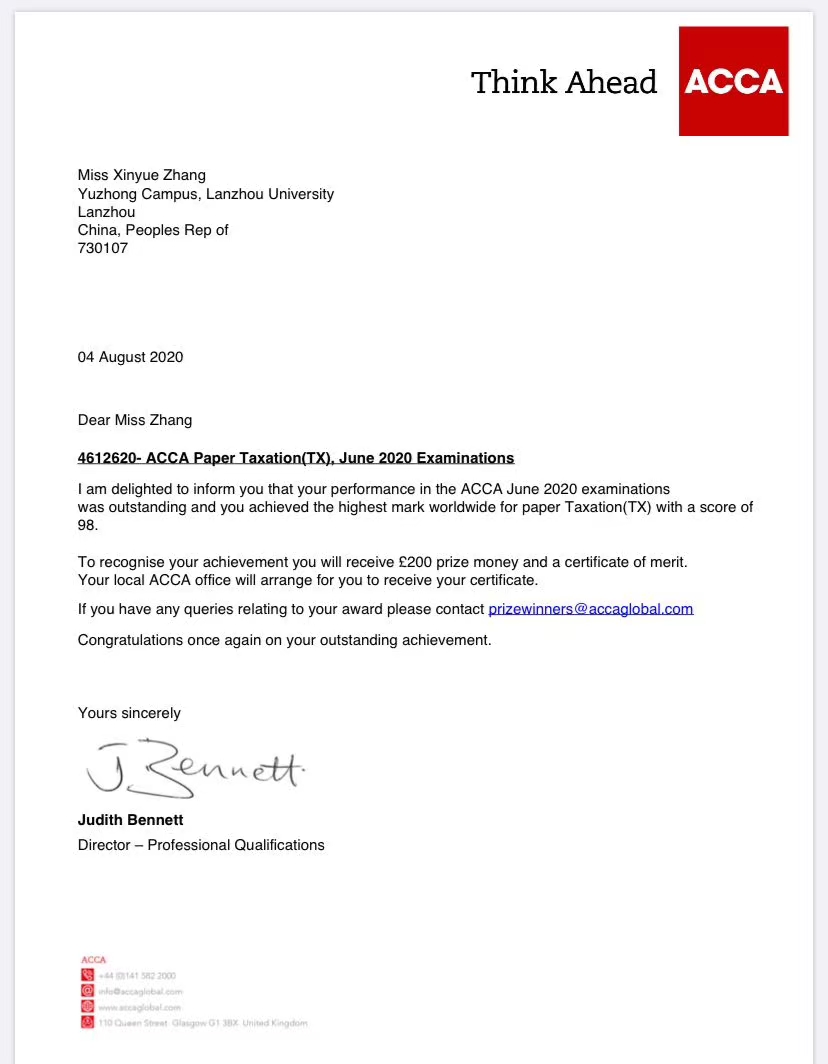 Aimed at developing outstanding accounting talents with international profession abilities, LUSM has taken a series of measures such as optimizing talent developing and course system, reforming talents training mode, improving supporting management system and has achieved honors and productive results in 7 years since the launching of the program. In 2017, LUSM ACCA delegation has won the champion of ACCA 2017 Job-Hunting Competition; in June 2018, LZU was awarded the Outstanding Contribution by the association on its global summit; in 2018, LUSM student Yang Yifan scored the highest on the F8(Audit and Assurance) paper in mainland China during ACCA December 2018 exam session; in 2019, LZU has won the honor of ACCA Excellent University Award 2019.
In the next round of construction of first-class undergrade program, LUSM will continue to innovate with ACCA's own characteristics and strive to make LUSM ACCA program unique and strong nationwide.