LUSM MBA Program Won Two Awards
Author:Zhang Lingling, Zhang Ruoyong
Translator:Ma Peipei
Source:MBA Education Center
Reviewer:Zhao Yanhai, Liu Yajun
View:
Updated:2021.12.13
Font Size:T T T
On December 10th, the China Business School Development Forum and Education Ceremony 2021 co-hosted by MBAChina and Manager magazine was held online. The ranking lists of 2021 China business schools and MBA programs were released which more than 200 business schools have been competing. The MBA program of LUSM won the "2021 China's Featured MBA Program Award " and ranked 31 on the list of the "2021 China's Top 100 Best MBA Programs".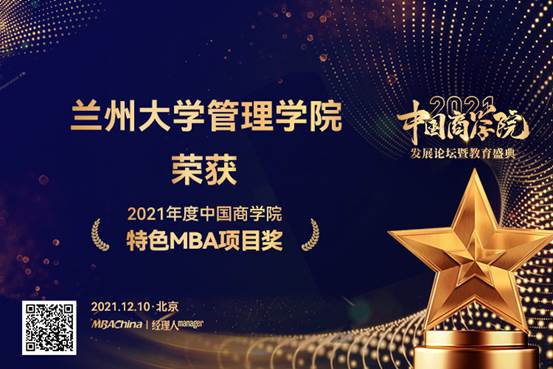 According to the principles of fairness, justice and openness, MBAChina and Manager magazine examined over 200 MBA programs across China and launched the list of 2021 China's Top 100 Best MBA Programs after data collection, school application, questionnaire, as well as combining 10 evaluation dimensions, including faculty, program, student evaluation and brand influence. The result has been strongly supported and unanimously recognized by MBA schools across the country.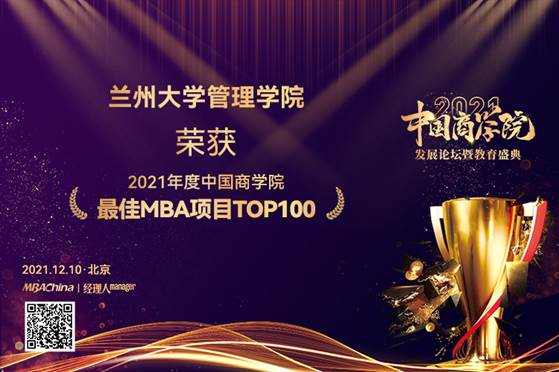 The MBA program of Lanzhou University was approved in 1997 and is the third batch of institutions providing MBA education approved by the Ministry of Education. Rooted in the 100 years University, the program has saw a rapid growth in the innovative management school. At present, the school offers MBA program, international MBA program, and the only EMBA program in Gansu, Qinghai and Ningxia provinces. After more than 20 years of construction and development, The MBA education of Lanzhou University has gradually formed an influential brand and distinctive advantages, and has trained over 6,000 graduates from all walks of life. In 2014, the MBA program of LUSM was accredited by the Association of MBAs which made LZU become the 22nd university of mainland China and the first university of the five Northwestern provinces accredited by AMBA. In 2017, LZU has acquired the five-year AMBA re-accreditation and in the same year, the school officially applied for AACSB accreditation and is making steady progress. With the continuous acceleration of international accreditation, the degree of internationalization of the school is constantly expanding, and its influence at home and abroad has been significantly improved.