The 12th Asia Academy of Management Conference Held in Lanzhou University
Author:Yang Mo, Wang Min, Wei Xuhua
Translator:Yan Xuefei
Source:Administration Office
Reviewer:Zhao Yanhai
View:
Updated:2022.06.17
Font Size:T T T
From June 11 to 13, the 12th Asia Academy of Management Conference was held in Lanzhou University, in a hybrid mode, as the joint effort of LUSM and AAOM. The conference, with the theme of "New Challenges for Management: The Asia-Pacific View", has enjoyed more than 170 participants from academia, practice field and industry circle in countries and regions. More than 7,000 audience watched the conference through live streaming.
Wu Jianzu, the Associate Dean of LUSM, presided over the opening ceremony. 3 invited guests addressed the ceremony. Wang Rui, Academician of CAE and Vice President of Lanzhou University, extended the warmest welcome to all guests onsite and online, and expressed sincere gratitude towards AAOM for its continuous support to Lanzhou University and School of Management. He attached great significance to the current conference, as a precious opportunity for all experts to discuss the issues and challenges brought by volatile international situations as well as the COVID-19 pandemic. He Wensheng, Dean of LUSM, pointed out that the conference theme is a vitally important topic, especially under the circumstances of the current changing world. Change has already been a key feature in today's world, so we have touched on changing concepts and ideas more or less in our own fields. It is indeed a prime time for us to rethink, reposition and discuss on our mission to conduct responsible research, to innovate management education, and to promote regional and global sustainable development. Jane W. Lu, president of AAOM, extended greetings to all attendees. She said that all people have experienced challenges leading to profound changes in our individual lives, workplace and the world in the past few years. It is the perfect time for management scholars to reflect on these challenges and share their experiences in dealing with them. The current conference would be an opportunity to enhance scholarship in areas along the conference theme and generate valuable insights on response to management issues arising from these challenges.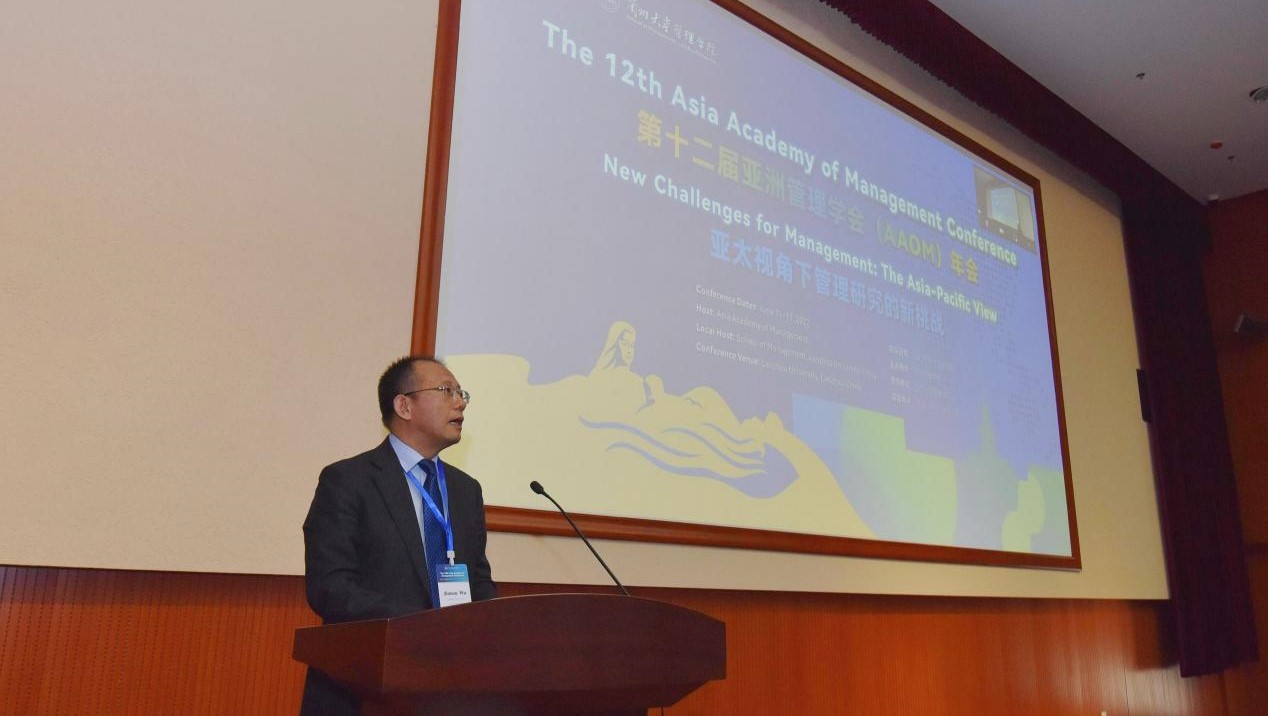 Wu Jianzu presided over the opening ceremony.

Christopher Marquis, Sinyi Professorship of Chinese Management of University of Cambridge, delivered the keynote speech titled on "How the Past Enduringly Affects Organizations". He started from the differences between path dependence and imprinting processes, examined how path dependence and imprinting processes affect the innovation of Chinese firms, expounded the importance of history to all forms of firms in China, and proposed that imprinting processes rather than path dependence is the reason why historical processes affects organizational innovation. Researchers need to better differentiate path dependence and imprinting processes when seeking to understand how the past affects firms' strategies and behaviors.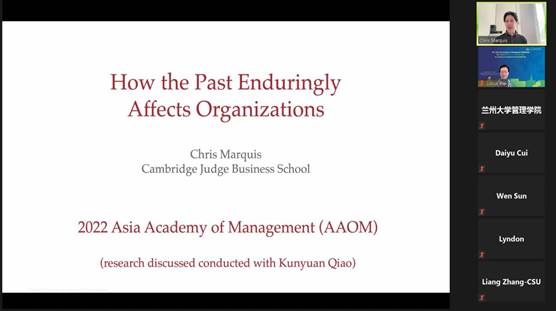 Keynote speech by Christopher Marquis
Xu Shaochun, chairman and CEO of Kingdee International Software Group, delivered the second keynote speech with the title "Kingdee's Transformation". He described the three major transformations that Kingdee International Software Group (hereafter as Kingdee) has experienced over the past 29 years since its founding. On this basis, he further elaborated Kingdee's transformation in its operations, product & services, strategy & business mode, and culture; and Kingdee's philosophy to lead the transformation, as one led by its mission, guided by its philosophy, driven by its strategy and safeguarded by its mechanism. He also introduced Kingdee's management philosophy of "A focus on the customer, a foundation built by hard-workers, and persistent professionalism", and called on every Chinese enterprise to return to its original inspiration, and carry forward traditional Chinese culture and new commercial civilization, while providing services and creating value to consumers and customers all over the world.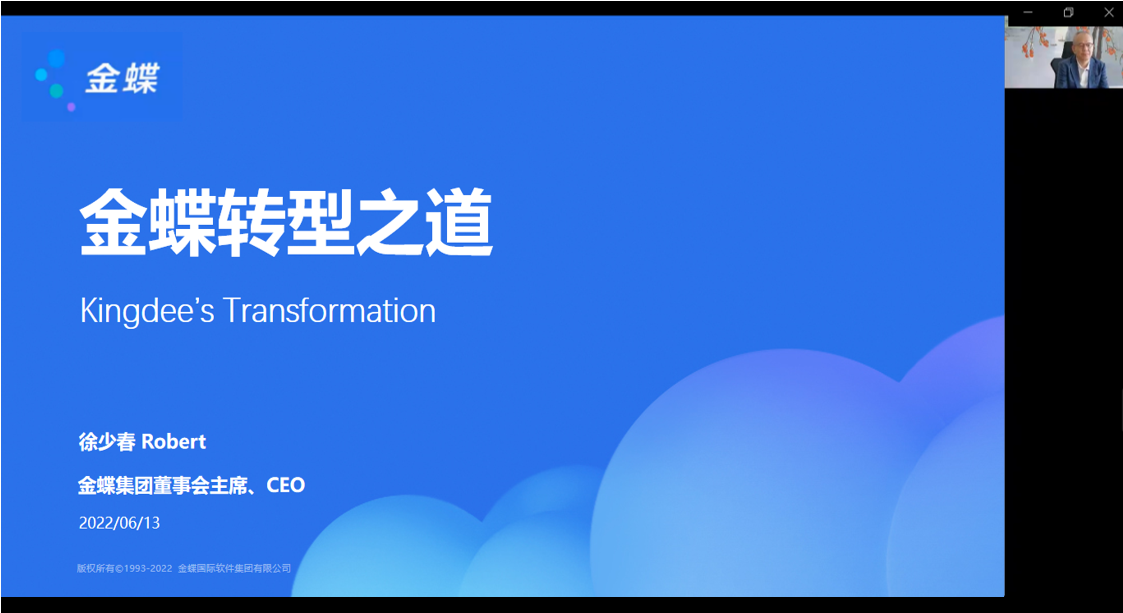 Keynonte speech by Xu Shaochun
AAOM 2022 lasted for three days, containing 2 keynote speeches, 17 concurrent English paper sessions, 9 concurrent Chinese paper sessions, 3 PhD consortium sessions, and 7 professional development workshops. Nearly 2,000 audience participated into the discussions and exchanges of the sessions and workshops. Conference presenters shared their research and thoughts on various topics and fields, such as strategic management, innovation and entrepreneurship, organizational behavior and HRM, international business, organization theory, management in public sectors and non-profit organizations.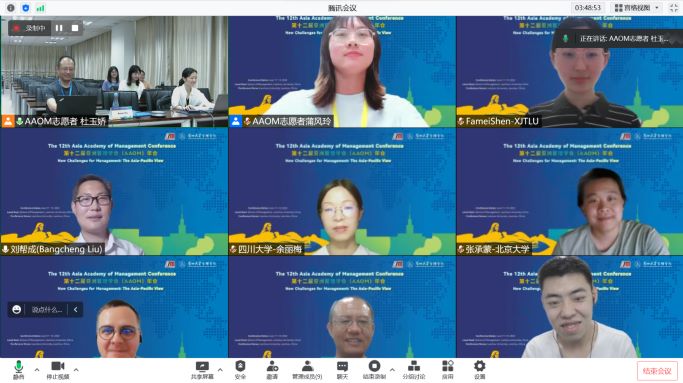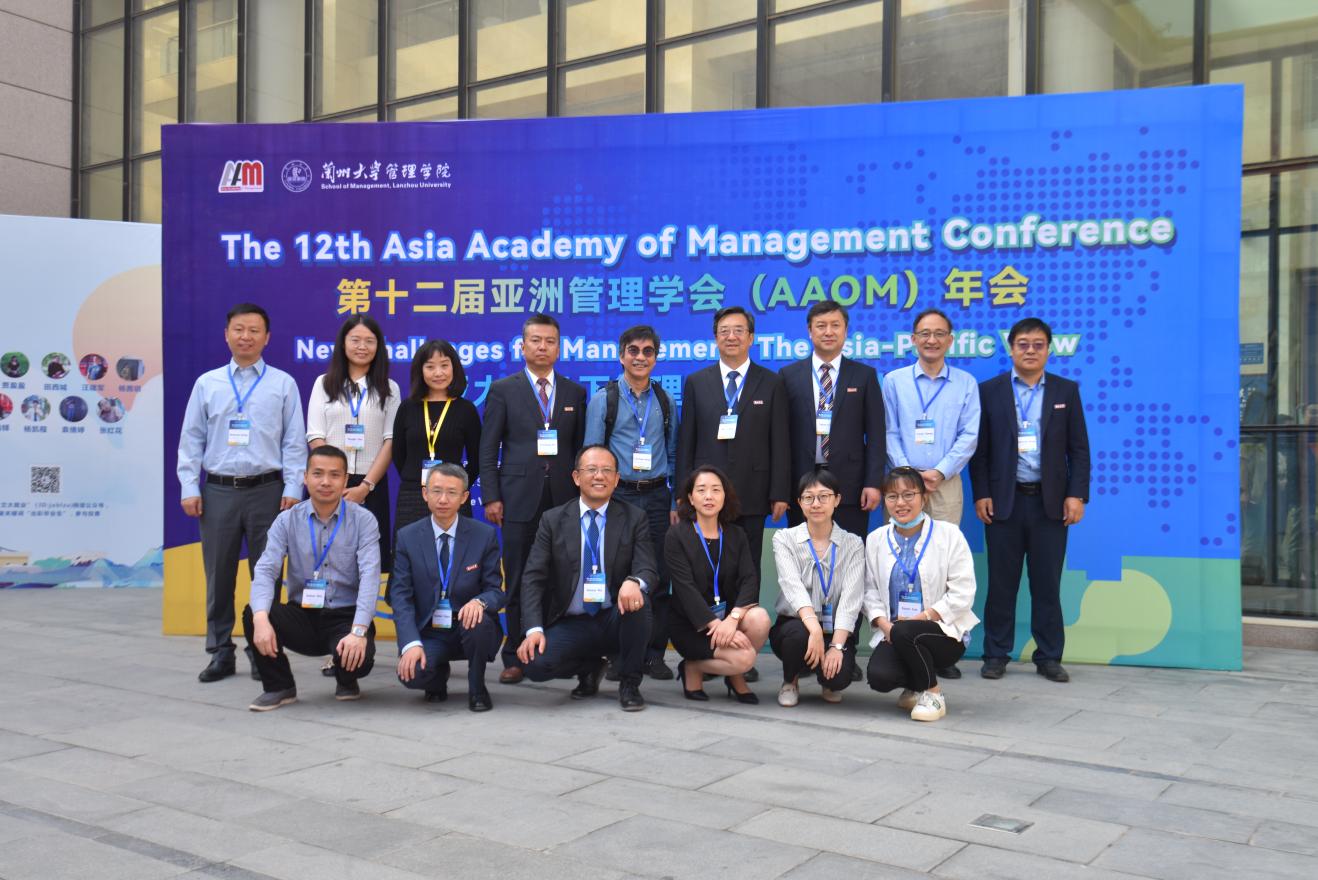 Some group photos for online and onsite participants
At the closing ceremony, AAOM 2022 Program Chair Chi-Sum Wong made a summary of the conference, and expressed full recognition and heartfelt gratitude towards LUSM. Prof. Wong also announced the best papers of this conference, as well as the next local host, Curtin University, Malaysia. The representative of next local host, Goi Chai Lee introduced his university through a video and a brief presentation.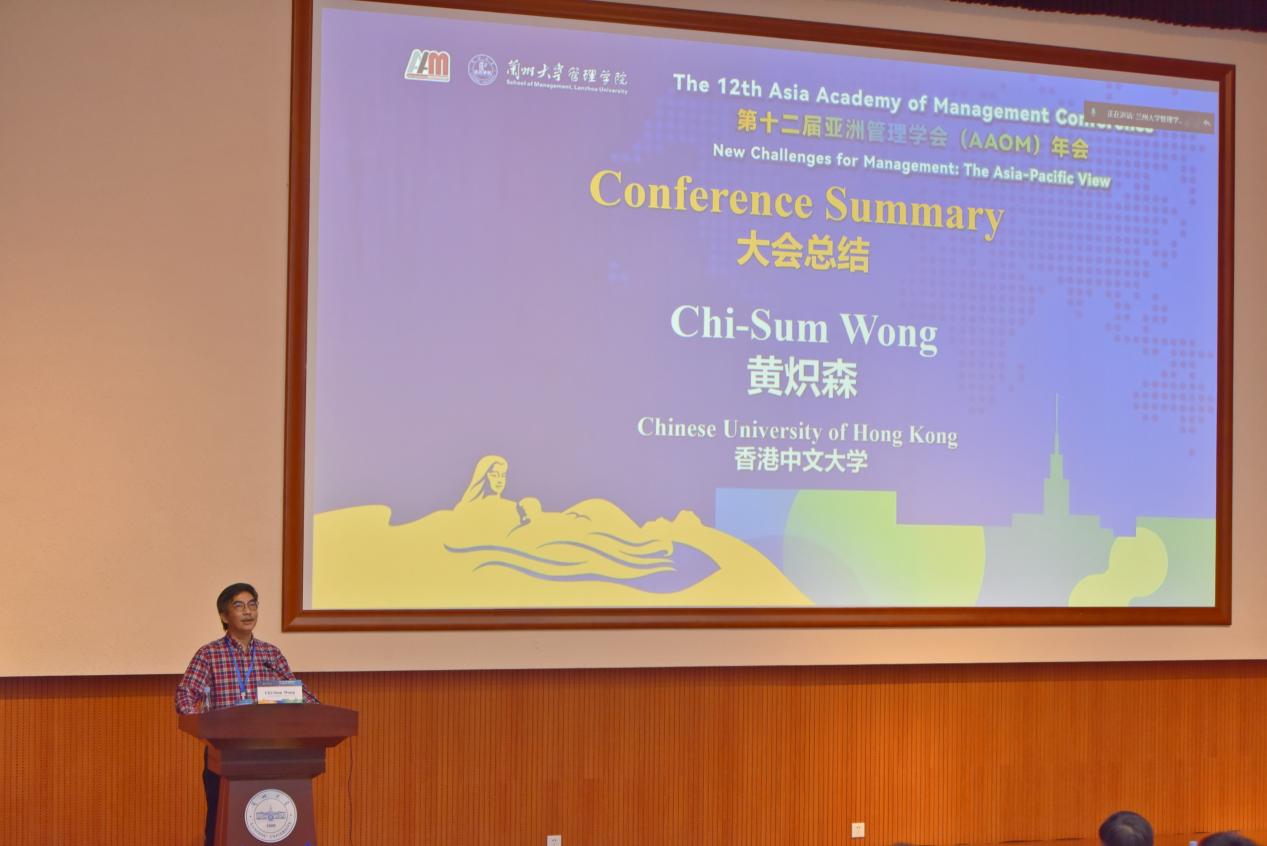 Conference summary by Chi-Sum Wong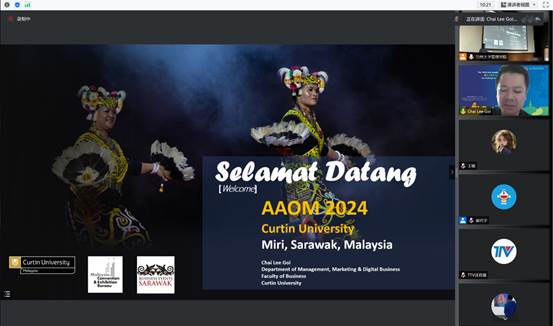 Speech of next local host by Goi Chai Lee
AAOM Conference is held every two years, and has 11 successful experiences in Hong Kong, Singapore, Bangkok, Shanghai, Tokyo, and other cities. The current conference, as its 12th one, is known as the second AAOM conference held in Mainland China after 18 years since it was held in Shanghai in 2004.