Another Two First-class Undergraduate Majors and Six First-class Courses
Author:Gou Ying, Zhao Yanhai
Translator:Ma Peipei
Source:Undergraduate Education Office
Reviewer:Liu Yajun, Zhao Yanhai
View:
Updated:2022.06.14
Font Size:T T T
According to the Notice on Publishing the List of First-class Undergraduate Majors at National and Provincial Level in 2021 released by the Ministry of Education, Marketing and Human Resource Management of LUSM have been listed as the first-class undergraduate majors at national level for the 3rd batch. This is another important breakthrough in program construction since 2020 when Accounting and Information Management and Information System were selected to be developed into first-class undergraduate majors at national level. Till now, all the 5 undergraduate majors of the school are on the lists.

Meanwhile, 6 undergraduate courses of the school have been selected by the Department of Education of Gansu Province to be the 2nd batch of first-class undergraduate courses.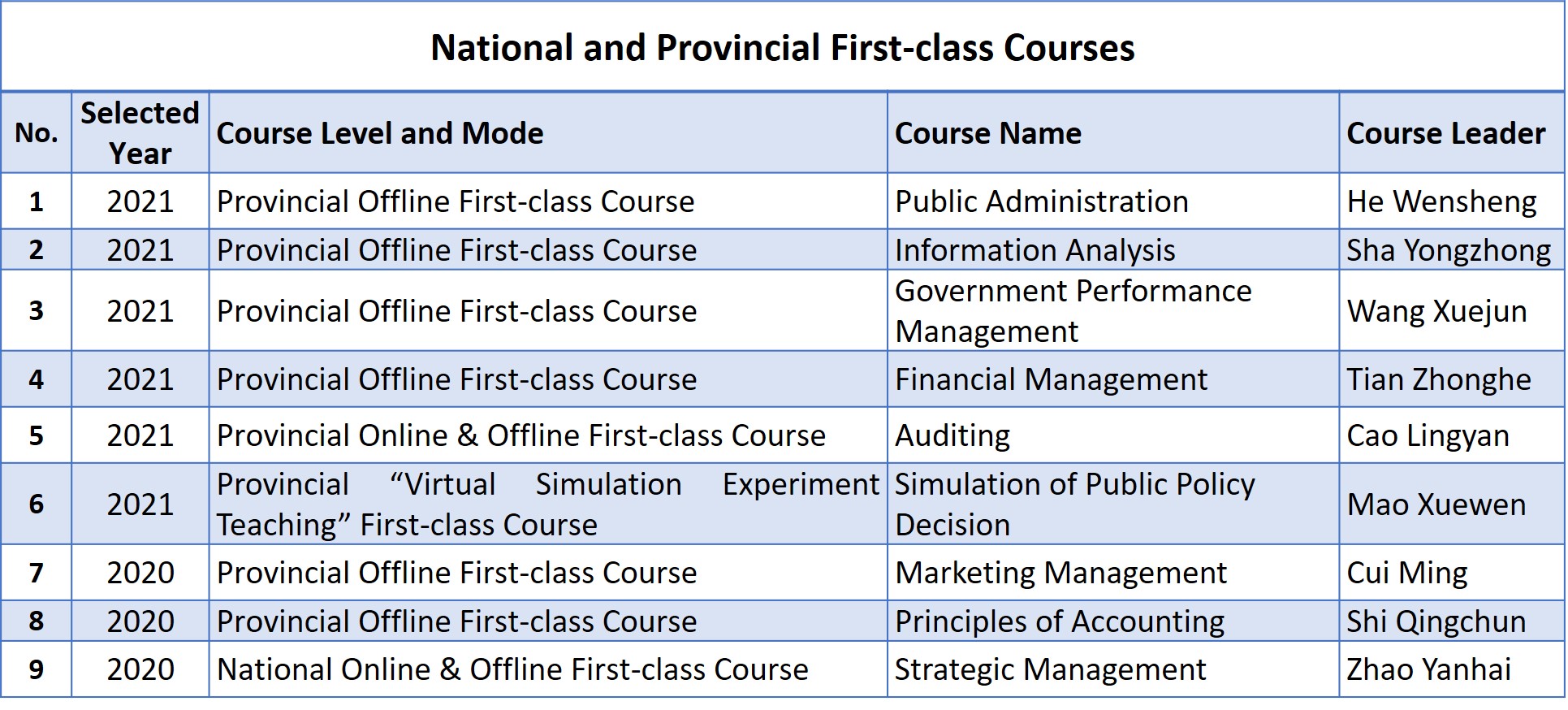 The two national first-class majors and six provincial first-class courses approved this time has on one hand proved LUSM's achievement in running the school, on the other put forward higher requirements for the program construction and talent training of the school. In the next step, the school will seize the opportunity, continue to improve and further consolidate the program competitiveness, create advantages and features, improve program system, strengthen education effectiveness, promote the high-quality development of the program with professional accreditation such as AACSB, and play an exemplary role in program reform and innovation, teaching staff, teaching resources, quality assurance system, etc. At the same time, when focusing on the fundamental task of fostering virtue through education, summarize the experience and results of curriculum construction to promote the building of first-class majors, and improve the quality of talent training. LUSM will continue to clarify the value orientation, improve the strategic positioning and governance system, strengthen governance ability, optimize organization and coordination, make breakthroughs in key points with clear goals, reform and improve quality and efficiency, promote innovation and development, cultivate a culture of excellence, and continue to move towards the goal of a first-class management school.
The school has always valued talent training, adhering to the school's culture, continuously optimizing the management system, making efforts to introduce excellent teachers, implementing the fundamental task of fostering virtue through education, and accelerating AACSB accreditation. In recent years, the school has taken many measures to actively promote the construction of national first-class undergraduate majors and first-class courses. A series of regulations, such as The Management Measures for the Construction of Undergraduate Course Teams of the School of Management, Lanzhou University and The Management Measures for The Construction of Undergraduate English Courses of The School of Management, Lanzhou University have been issued, and a number of high-quality courses and teaching teams have been developed. LUSM will continue to improve the teaching evaluation system integrating student evaluation, peer expert evaluation and objective data evaluation, and ensure the continuous improvement of overall course quality in combination with teaching observation, teaching discussion, workshops and other activities.