LUSM Dr. Wang Yanxia Published An Article in The Journal of Organizational Behavior
Author:Lai Ping, Wang Yanxia
Translator:Ma Peipei
Source:Administration Office
Reviewer:Zhao Yanhai, Liu Yajun
View:
Updated:2022.10.24
Font Size:T T T
Presenteeism is defined as going to work despite being ill. Research has shown that presenteeism is more prevalent in the current intensified culture of overwork. Many studies have regarded presenteeism as a passive response to poor physical conditions and the perspective that presenteeism is associated with a circle of resources loss dominates the literature and have been discussed in terms of its negative effects on both individuals and organizations. However, few studies have explored the active nature of presenteeism on a daily basis. 
Based on this, LUSM Dr. Wang Yanxia, and researchers from Jinan University, Chengdu Sport University and Southwestern University of Finance and Economics have conducted studies based on conservation of resources theory and found that presenteeism is an active, problem-focused coping strategy that health-impaired employees use to mediate the positive relationship between episodic physical pain and job crafting. Through two studies, the researchers propose that episodic physical pain is positively related to presenteeism and ultimately drives job crafting at the daily level. Furthermore, workplace ostracism significantly weakens the above relationship by reducing employee's self-esteem. The researchers have also examined the impact of employees' physical and social pain on their work behavior, and puts forward a new thinking direction for organizations to correctly understand and cope with employees' presenteeism.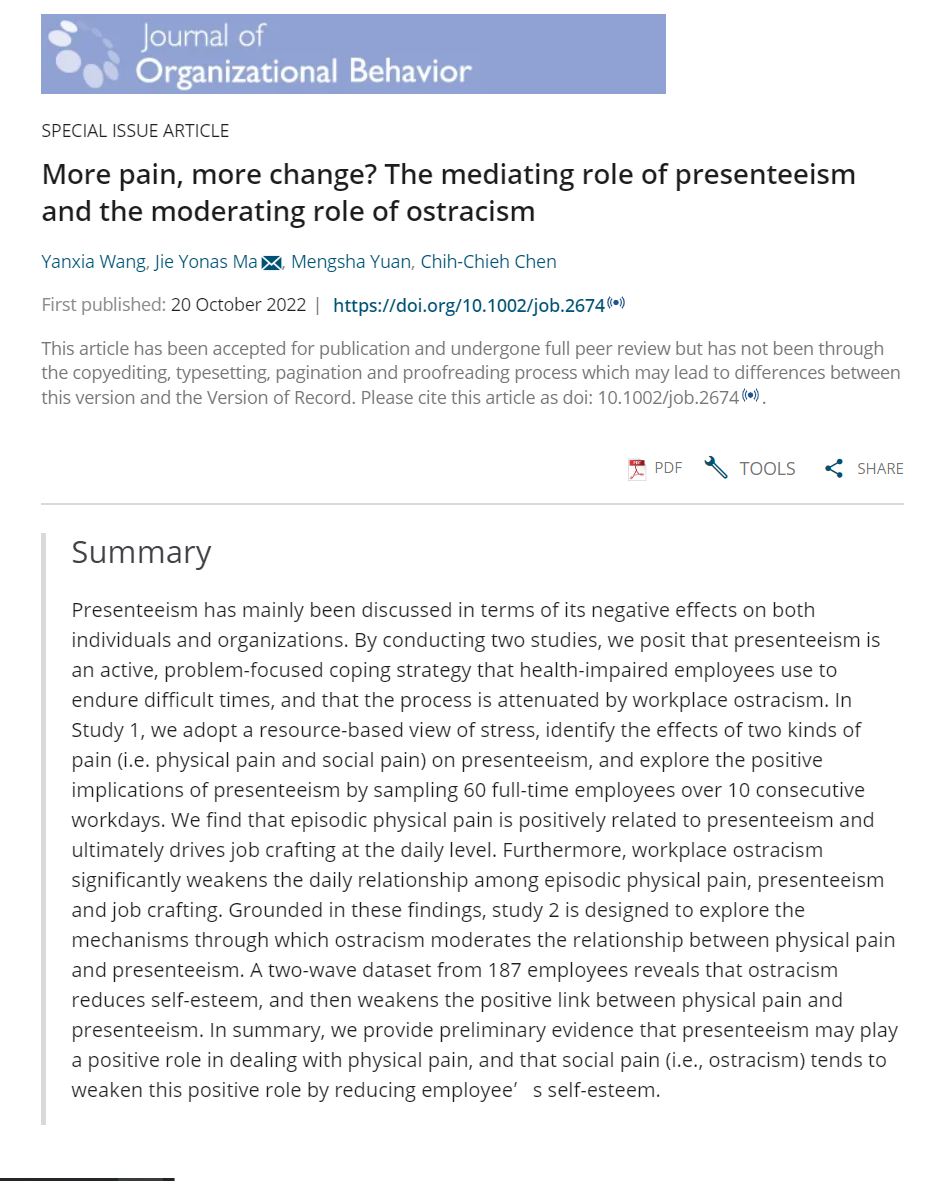 With the title "More pain, more change? The mediating role of presenteeism and the moderating role of ostracism" , the article was published online on October 20th in the Journal of Organizational Behavior with Dr. Wang Yanxia of the School of Management, Lanzhou University as the first author, and LUSM the first author affiliation. The publication of this research marks a new breakthrough in the field of organizational behavior research at LUSM.
Link of the paper:  https://onlinelibrary.wiley.com/doi/10.1002/job.2674
Journal of Organizational Behavior: https://onlinelibrary.wiley.com/journal/10991379
Founded in 1980 and published nine times a year, The Journal of Organizational Behavior aims to publish empirical reports and theoretical reviews of research in the field of organizational behavior, wherever in the world that work is conducted. The journal focus on research and theory in all topics associated with organizational behavior within and across individual, group and organizational levels of analysis. The latest impact factor of Journal of Organizational Behavior is 10.079, and the average impact factor in the past five years is 11.975. It belongs to FMS A, JCR Q1 and its CiteScore is firmly in the forefront of Q1 in various fields.